40+ Athletes That Tower Over The Rest
By Philip B November 3, 2021
---
In the world of sports, body features like height and muscles are considered to be a basic necessity. Of course, there are athletes who have gone on to succeed with bodies similar to that of Mr. Bean, but most of them tend to be either very tall or very built, especially in sports like basketball, wrestling, and boxing. Having towering, massive people on the team is in high demand because of the advantages that come with it, such as being able to run faster. A tall basketball player is more likely to succeed than one of average height, but that is a story for another day. For now, let's have a look at some of the largest (either in height or bulk) athletes of all time.
Andre the Giant
Wrestling has seen its fair share of great wrestlers but only a few can hold a candle to Andre the Giant. Andre wasn't only tall in height, but also extremely muscular and built. He was the inaugural WWE Hall of fame inductee.
He was 7'4 ft tall and weighed an astonishing 520 pounds, and many at the time labeled him the largest man in sports-entertainment history. During his time in WWE, he headlined two WrestleMania's, picking up his sole world heavyweight championship in the process.
Margo Dydek
The WNBA is as you'd expect filled with a lot of tall basketball players, but none has ever reached the great heights of Margo Dydek. With a height of 7 feet 2 inches, Margo became the tallest female basketball player ever.
Even in the NBA, only a few players can boast of being as tall as Margo. She also holds the WNBA record for the all-time leader in blocks. Unfortunately, Margo died in 2011 after suffering a cardiac arrest in her home.
Gheorghe Muresan
If there was one player in NBA history that made other players look like they were grade school kids, it would be Gheorghe Muresan. Standing tall at 7 feet 7 inches, the Romanian-born star was the perfect definition of gods among men.
Gheorghe was utterly dominant on the court; he didn't need to jump too high to make a bucket or block. His height was a major advantage for him. He and Manute Bol (who we will meet later) are tied as the tallest NBA player of all time.
Peter Crouch
Peter Crouch is one of the tallest football players to ever grace the premier league and the footballing world. At over six-and-a-half feet tall, he holds the record for the most headed goals in the English top flight. Not surprising at all.
The former Liverpool man is among the long illustrious list of 31 players to score 100 premier league goals. During his career, Crouch played for 12 different football clubs, winning the FA Cup and FA community shield along the way.
Konishiki Yasokichi – The Meat Bomb
Ever heard of Sumo wrestling? Konishiki was a three-time champion of the sport and arguably the most dominant force in its rich history. Konishiki had a record weight of 633 pounds. That is two times the weight of a MotoGP bike.
Despite being an American from Hawaii, Konishiki became the first non-Japanese wrestler to reach Ozeki. For those not familiar, this is a champion rank (second to yokozuna). Because of his massive size, he earned the nickname "Meat Bomb." No offense, but that is spot on.
Hong Man Choi
Hong Man earned the nickname "Korean Monster" not simply because of his astonishing height of 7'2″, but also because of his sheer dominance in Mixed Martial Arts (MMA) and kickboxing. His height was a major advantage, especially when he threw his punches.
Hong Man boasts of a kickboxing record of 13 wins in 22 fights. His biggest achievement came in 2005, where he won the K-1 World Grand Prix Championship in Seoul. His last fight came in 2016, where he won by knockout.
Stefan Struve
Struve is a Dutch-born former Mixed Martial Artist. He dominated in the Ultimate Fighting Championship (UFC). To this day, Struve is the tallest fighter in the entire history of the sport. He has an MMA record of 29 wins and 13 losses.
Struve actually played football till he was 14. At that time, he chose to go into MMA after visiting a local gym with his brother. He made his professional debut at 17 after going on a 16-wins and 2 loss record.
Maria Sharapova
Maria was the perfect tennis player: she had the looks, height, and skill. She is a former world champion and was ranked number 1 on five separate occasions by the World Tennis Association (WTA). She stands tall at 6'2″ ft.
Maria remains the only Russian to win all four major Grand Slam titles in a single calendar year. She was also one of the youngest tennis players to become the world number 1 at just 18 years of age. Kuddos, Maria!
Danny Jones – The Tree Man
Unlike the others on this list, Danny is not an athlete. Rather, he is a fitness instructor who earned the nickname "The Tree man" after going viral on social media in 2017. Danny hails from South Carolina with a height of 6'7 feet.
He is now a personal trainer who helps people looking to emulate his body-building features. Since the Tree Man incident, Danny has racked up a significant number of followers that now stands at almost eight hundred thousand. We see a great future ahead of him!
Erika Ervin – Amazon Eve
Erika Ervin, popularly known as "Amazon Eve," is an American model, actress, and fitness instructor. She holds the Guinness World Record for the tallest professional model, a feat she achieved in 2011. She appeared in the hit Marvel series Agents of S.H.I.E.L.D
An interesting fact about Ervin is that she was already 5' 11″ by the age of 14. In just four years, she gained a rapid 9-inch increase in height. She now stands tall at 6'8 with a shoe size of 14.
Nataliya Kuznetsova – The strongest woman in the world
Nataliya Kuznetsova is a Russian female bodybuilder often regarded as the strongest woman in the world. She has a height of 5 feet 7 inches, but whatever she lacks in height, she clearly makes up for it in weight and size.
She has trained consistently for over fifteen years to earn different world records. She weighs 225 pounds, of which are muscles only. Nataliya recently broke the female world record for bench press, lifting, and deadlift. She has a lot of followers on Instagram.
American Weightlifter – Holley Mangold
Holley Mangold, the popular "American weightlifting champion" competed in several Olympic games and finally became one of America's biggest champions. She put her strength and physique to good use, and started her career at an early age, in 2008.
Holley Mangold weighs over 400 pounds, and has a height of 5'8″. She proved to be indeed strong by pulling heavyweights that weighed over 562 pounds. At her unit at the Olympics game, she came in 9th position out of all 17 participants.
Mamadou N'diaye
Mamadou N'Diaye ranks among the tallest basketball players that have ever played. In 2016, Mammadou joined the Golden State Warriors Summer League after going undrafted. He won the honor of being Defensive Player of the Year in the 2013-2014 NCAA Basketball season. Mamadou stands at a height of 7'5 ft".
The Senegalese giant started as a soccer player, then switched to basketball in the year 2010. Apart from his impressive height, Mamadou also weighed 300 pounds. Unfortunately, he is still undrafted in the NBA as of this writing, but who knows what the future holds?
Randy Johnson
Randy was an amazing baseball player, who was called the Big Unit. His stature and talent made him the total package. He stands at a height of 6 feet and 8 inches, and according to records, he is one of the world's tallest pitchers.
Randy Johnson was the best baseball pitcher and was recruited to be a part of the teams Seattle Mariners and Amazon Diamondbacks. He could pitch high using his left hand, and this brought him to the limelight in no time.
The Famous Sprinter, Usain Bolt
Usain Bolt is by far the most well-known sprinter in sports history. His formidable skill on the track has kept him in the hall of fame for years. Apart from being the fastest athlete in the world, he is also among the tallest sprinters.
"Lightning Bolt," as he is fondly called by his teammates stands 6 feet and 5 inches tall. Over the years, he claimed several awards and gold medals from different Olympic games, proving that he is undeniably special and knows exactly how to use his long legs.
Michael Phelps – The Flying Fish
Michael Phelps is arguably one of the greatest athletes in Olympic history. So many times, he made people think he was a fish in human form. He could swim 50 rounds in an hour, hence why they nicknamed him the "Flying Fish."
Michael excelled in all his competitions in 2008 and became the first athlete to win back-to-back gold medals eight times. He is 6 feet and 4 inches tall and also holds the record for the most medal wins (28) in Olympic history.
Yao Ming
Yao Ming is a Chinese basketball player whose career began early in life. Despite most NBA stars coming from America and Europe, Ming was one of the few from Asia. He enjoyed much success and notoriety throughout his playing career.
Yao Ming is incredibly tall as expected from most basketball players. He stands at 7-and-a-half feet tall. One would think that his height was the reason behind his numerous wins, but apparently, it is not. He was quite talented beyond that.
Jan Koller – The Striker
No doubt, Jan Koller is one of the greatest strikers to ever hail from the Czech Republic. He represented his country in three European championships and one world cup. All of which was enough for him to become their outright leading goal scorer.
Koller is known for his incredible heading ability which was largely due to his impressive height. He won the Czech Republic Player of the Year award in 1999 and has won an incredible three league titles for three different clubs.
Darya Klishina
Darya Klishina is a Russian female athlete who became famous when she ranked 9th at the 2016 Olympics in Brazil. She is both talented at playing volleyball and in the long jump. It is safe to call her a genius.
The Russian goddess started her career at age eight. She first played volleyball before switching to long jump. Darya's height, which stands at 5 feet and 11 inches, is one of her strengths and has helped her make incredible strides in her career.
Blanka Vlasic
Blanka Vlasic is the most elegant high jumper in history. She has the perfect height for an athlete at 6'3″ tall. She instantly rose to fame when she participated in the Olympic games, bagging several gold and silver medals.
The game-changer for Blanka was the European championship games. It defined her career after she emerged victorious with several gold medals. Blanka is a mixture of beauty and talent, and she could jump two meters high without batting an eye.
Suleiman Ali Nashnush
The late Suleiman Ali Nashnush was a shining star. His reign was smooth. He overcame all obstacles he encountered on the path to fame until he achieved his goals. Suleiman was a renowned basketball player who also started a career in acting.
Suleiman was part of the national team in Libya, where he spent most of his childhood. The basketball enthusiast suffered a rare medical condition before he passed away. According to sports records, he was the only athlete who grew past 8 feet.
Kerri Jennings
The American volleyball player Kerri Walsh Jennings is a first-class champion. She made history when she won three gold medals three consecutive times, and a bronze medal, at the Olympic games. Kerri was a two-time champion and the pride of her team.
Jennings always puts in effort in every appearance she makes. Hence why she is currently the highest-paid volleyball player the world has ever produced. Her physique plays a part in her success with a height of 6 feet and 3 inches.
Aaron Sandilands
Aaron Sandilands was born in Australia where he played in the Australian football league and was considered the most promising footballer at the time. For a football player, he had the height of a sprinter, as he is nearly 7 feet tall.
Aaron Sandilands became an all-star legend after taking his team to victory. Over time, he honed his football skills and used them to his advantage. Sandilands claimed several awards and gold medals. He reached the highest peak a soccer player can achieve and retired.
Aleksey Valerevich
Aleksey Valerevich Kazakov stood out in all competitions. He is a Russian volleyball player, who is 7 feet and 2 inches tall. Aleksey was considered one of the best players at the Olympic volleyball tournament in Athens, 2004 where he ranked third place.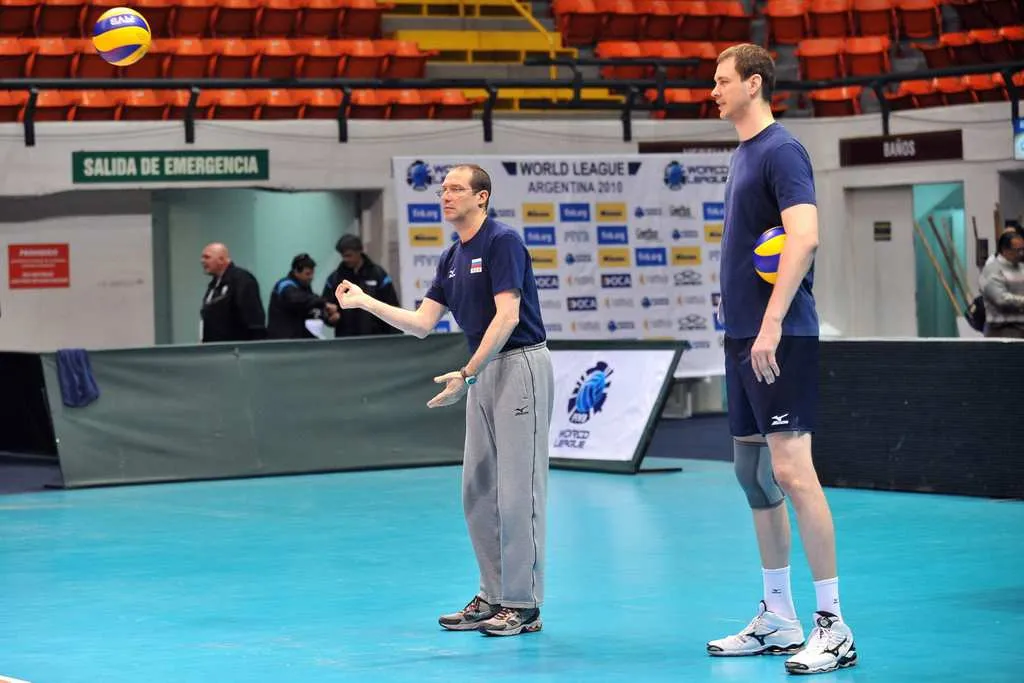 Aleksey was awarded a bronze medal at the Olympics for an impressive performance. Also, he won a silver medal in the previous games. His multiple wins elevated him and his teammates, giving more allure and prestige to their names.
Irfan Mohammed
Irfan Mohammed is a Pakistan-born athlete, and a strong representative of the Pakistani national team. He is an outstanding cricket player, with an intimidating height, which is just over 7 feet, making him the tallest cricketer in the world.
Irfan Mohammed was Pakistani's favorite cricket player, having led their team to victory countless times with his fast-bowling skill. This along with his height gave Irfan an edge over other competitors, made him a strong contender. He broke many records with this talent.
Nikolai Valuev – The Boxer
The list of the most famous boxers would not be complete if the name Nikolai Valuev isn't included. Nikolai was a powerful and versatile boxer. He spends half his time weightlifting. This gradually enhanced his body build; thus, he weighed 328 pounds when he competed.
Nikolai is all a boxer should be. Most times his competitors have a match with him because of his looks. He won heavyweight champion twice, with over 40 wins in all. He settles his issues with fellow boxers in the ring.
Brittney Griner
Brittney Yevette Griner originates from Texas. She got signed into the American women's basketball league, and since then has never disappointed. She is disciplined and devoted to the game, and over time her hard work has paid off. She reached over 1,500 points in a season.
Her amazing physique gave her an upper hand at the Olympic game. She began her career at an early age, and eventually, she became a leader among the players in the Women's National Basketball Association. Her career is not over, so we look forward to seeing what else she will accomplish.
Lacina Traore
Lacina Traore joined the hall of fame after competing in the World Cup and European Champions League. He is one magnificent football player, who plays for his home team, the Ivorian team. The football club has no lapses with Lacina around.
The Ivory Coast native is 6 feet 8 inches tall. Being among the tallest football player is an added advantage, for he excells at every competition. He was awarded the title of the best football player in the whole of Africa.
Dane David De La Rosa
The former baseball player, Dane David De La Rosa, grew up an American. He started his career as a baseball pitcher in the US, then tried other leagues going forward. Dane worked effortlessly throughout each season to get to his current position.
Dane has quite an obsession for victory. All the leagues he played for can attest to that. He combined his skill and hard work and created a force that could not be broken. Dane's input to the team made a huge difference.
Rik Smits – The Dunking Dutchman
If you are a basketball enthusiast, the name Rik Smits should ring a bell. He was called the "Dunking Dutchman." Rik was a basketball player who did justice to every appearance he made on the court. He is one of America's tallest athletes.
Rik Smits was commended for his accurate shots. His height also worked in his favor, as he did not have to stretch so far to hit the net. He played for Indiana Pacers and was the best player on the team.
Chuck Nevitt – The Human Victory Cigar
Chuck Nevitt was as good as every other basketball player in the history of the sport. He had the natural endowment, height, and skill. With this, everything fell in place for him. He made a lasting impression that remains to date.
Chuck Nevitt played for the Los Angeles Lakers and Detroit Pistons, and his moments in these clubs were blissful. His team members nicknamed him the "Human Victory cigar," and they considered him the master of the game, since he always led them to victory.
Zdeno Chara
Zdeno Chara is from Slovakia. He played ice hockey for the Boston Bruins team and led them as a defendant. Chara was the tallest athlete that ever played on the hockey team. His height of 6'9″ makes him a formidable force on the ice.
His physique was best suited for his defensive position. Being the tallest in the team, his opponents could hardly get through him. Chara was the most efficient player the Boston Bruins team ever picked in all season. He was focused and disciplined.
Andy Fordham – The Viking
Andy Fordham is a heavyweight champion known to play darts. He is famous in part for bing known as the tallest and heaviest player to take part in the world championship. Called "The Viking," Andy Fordham weighed 445 pounds when he competed, and is 6'2″.
The heavyweight champion recently has lost a lot of weight because it was affecting his health. He went from weighing 445 pounds to 350 pounds. Andy was a fierce player; he looked like a giant and this scared most of his competitors.
Manute Bol
Manute Bol was born in South Sudan. He played for the American basketball team and was indeed impressive. Unfortunately, this great player passed away in 2010. He was the tallest player at the National Basketball Association and represented his team in style.
Manute made a name for himself and will forever be registered in NBA history. The late star was the first basketball player that got more blocked shots with little points. He passed his trait on to his child who took after him.
Eddy Curry
Eddy Curry was born in Harvey, Illinois, and is a former NBA player. Eddy is over 7 feet tall and he was drafted in 2001 by the Chicago Bulls. There he was awarded the title "Illinois' Mr. Basketball" and was named McDonald's All-American MVP.
Eddy reached the end of his contract with the Bulls in 2005, and he then signed with the New York Knicks, where he played from 2005 to 2010. He was also part of the Miami Heat's title-winning team in 2012.
Richie Gray
The Scotland international rugby union player, Richie Gray, was born on August 24, 1989. He grew up in Glasgow, Scotland, where he was first recruited to play for Glasgow Warriors in 2008. An amazing pitcher, he became his team favorite.
His appearance and height made him stand out. He stands at 6 feet and 10 inches tall. Richie was named the Pro12 Dream team. Being the tallest (and most talented) player on his team, he got selected for the 2013 British/Irish Lions tour.
Shaun Rogers – "The Chunk"
Shaun Christopher O'Shea Rogers, a former American football player who was nicknamed "The Chunk" because of his abilities. He was selected by the Detroit Lions in the 2nd round of the 2001 NFL and was considered one of the hardest-hitting players.
Rogers's special skillset was his magical power, which brought him into the Hall of Fame. He weighed 350 pounds and stands 6 feet, 4inches tall. Apart from the 2001 NFL, Rogers played for the New Orleans Saints of the NFL and Cleveland Browns.
Sun Mingming
China native Sun Mingming is a former basketball player. He holds the record in the Guinness book as the tallest basketball player in history. His height was very intimidating to his opponents as he stood at 7 feet 9 inches tall, while also weighing 370 pounds.
Mingming got selected by several American teams, including the Maryland Nighthawks, IBL team, and Harlem Globetrotters in 2007. He went back to China in 2009 to play for the Beijing Duck in CBA. He took part in the 2015 CBA final championship.
Primo Carnera – "Ambling Alp"
Primo Carnera was a famous Italian professional boxer and wrestler who introduced knockout boxing. He was the first boxer to win fights by knockouts. He won the boxing world heavyweight champion in 1993. Primo stood at 6-and-a-half feet tall.
Due to his talent as a great boxer and wrestler, he was nicknamed the "Ambling Alp." He was considered the tallest heavyweight boxer during his time. He weighed 275 pounds and was regarded as a giant. They also called him "The Italian Monster."
Lennox Lewis
Lewis is a former three-time world heavyweight boxing champion. Lewis grew up in Westham and stands at a height of 6 feet, 5 inches. He is the last heavyweight boxer to win the undisputed championship, and has become practically a legend in the sport.
Lewis first represented Canada at the Olympics game in 1984 and 1988. At the end of the Olympic tournament, Lewis won a gold medal in the super heavyweight team in the final. He won several heavyweight championships, securing his spot in the history books.
Rory Wiremu Arnold
Arnold is an Australian rugby union player who currently plays the lock position for the Stade Toulousain in the top 14 competition. He was drafted in 2013 by the Gold Coast Breakers and since then has made over 100 appearances in the competition.
To say Rory Arnold is a successful rugby player is putting git mildly. He is almost 7 feet tall and weighs 265 pounds. He was drafted by the Brumbies squad for the super rugby season, where he made his first debut in the match against the Reds.
John Patrick Daly
The American professional golfer, John Daly, was nicknamed "Long John" because of his driving distance off the tee, his appearance, and his backswings. John became famous when he participated in the 1991 PGA Championship and his victory over Costantino Rocca.
John is one golfer with numerous wins as an American. He has 17 professional victories and won awards in different countries. It was recorded that he was the first PGA Tour player to win over 300 yards in one drive.
Shaquille O'Neal
Shaq is a former NBA player who is regarded as one of the greatest basketball players of all time. He stands 7 feet 1 inch tall, and weighed 325 pounds during his career. Shaq and Kobe Bryant formed one of the most dominant NBA partnerships of all time.
Shaq was selected by the Orlando Magic in the 1992 NBA draft. He would go on to win 1 MVP, 4 NBA titles, and 3 Finals MVP. Shaq was the most dominant force in the NBA during his time, and is still highly regarded.
Lisa Leslie
Lisa is a former WNBA player who during her time won the MVP award 3 times and the Olympic gold medals four times. Her height of 6 feet and 5 inches may have played a part, but she was quite astounding as a player.
She was the first player to dunk in a WNBA game in 2011 and was voted by her fans as one of the top 15 players in history. Leslie won the FIBA world championship twice. She became the coach of the Triplets in 2019.