What's Behind Door Number One?: A Look Backstage At Some Of Our Favorite Game Shows
By Jishnu B July 12, 2022
---
Game shows have managed to entertain a diverse range of audiences since the dawn of the era of television. The first televised game show that set the stage for countless others was the 1938s Spelling Bee, which aired on BBC. Shows like Wheel of Fortune, The Price is Right, and Who Wants to Be a Millionaire? have built a huge fan base due to their innovative and lucrative prize schemes. Even if you think you are completely invested in a show, you might not be aware of the little secrets, tricks, and trades that go on behind the scenes. Sometimes it takes an elaborate team — that we don't always see — to bring these shows' visions to life. Let's take a look behind the curtain and see what goes on behind the scenes of some of the most popular game shows.
The Price is Right, Now Where is My PRIZE?
Originally aired in 1972, The Price is Right is considered the longest-running game show of all time. Bob Barker hosted the show for 35 years and it's still thriving under Drew Carey. A simple concept like guessing the price of a product evolved into an ingenious idea for a show.
Although the show has been a staple for many years, you may be disappointed to learn that the winners do not usually receive their prizes right away. In fact, they will have to wait until the show airs to claim their well-deserved victories. But what if an episode never airs? Will the player still be able to collect their winnings?
The Wheel Of Fortune Height Conundrum
Wheel Of Fortune features contestants competing against each other by solving word puzzles. The spinning wheel is then used to determine the cash prizes. But, if you take a closer look at the contestants, you'll notice that they have the same height.
Does the show specifically give chances to contestants of a particular height? If so, then that would just be unfair. Apparently, the contestants are made to step on a pedestal that evens up their height. In fact, many have also claimed that the wheel is too heavy to spin.
Could American Ninja Warrior Be Fake?
American Ninja Warrior developed a cult following after being picked up by NBC during season 5. Every Monday night, viewers eagerly tune in to see their favorite contestants perform the strenuous stunts. However, some aspects of the show appear to be too good to be true at times.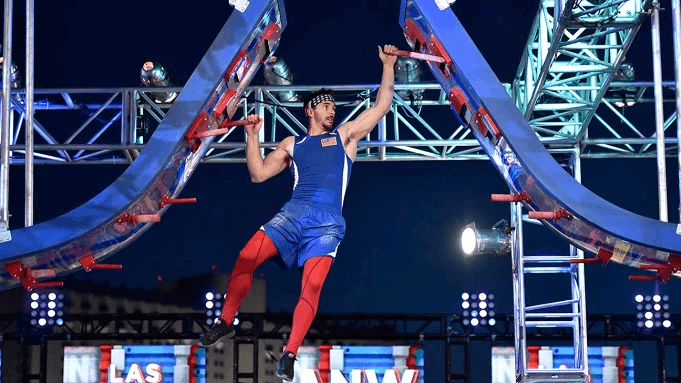 The competitors compete in the Tacoma Dome, facing a series of increasingly difficult tasks. The obstacle courses featured in each episode are sometimes so outrageous that fans can't help but wonder if it's real. But, given that contestants begin training at least a year ahead of time, we know that the show is as real as it gets.
Five Minutes of Millionaire Status
As the show's name says, Who Wants To Be A Millionaire? can earn $1 million if they answer all fifteen multiple-choice questions correctly. Since the prize money is hefty, the show's stringent security measures are, too. However, in 2001, contestant Charles Ingram managed to win the jackpot under dubious circumstances.
Everything appeared to be fine when Ingram was in the hot seat, but the producers quickly noticed some communication with audience member Tecwen Whittock. Whittock would cough prior to Ingram answering a question correctly, raising suspicions. Ingram and his associates were later arrested in 2003 and faced a trial in which they were found guilty.
FDA Regulated Food In Fear Factor?
If you are brave enough to face your fears, then Fear Factor is the show for you. The popular show is best known for featuring outrageous and often revolting stunts. From milking a goat, chewing intestines, to drinking champagne made of worms, they have ticked all the boxes of grossness and obscenity.
Did you know that all of the "food" that these contestants consume is FDA-approved? We're not sure how these items are classified as food grade in the first place. Still, NBC was once sued for $2.5 million over the food choices, and they even had to cancel a few episodes over excessively revolting foods.
No Time For Break
Deal or No Deal on NBC introduced an intriguing concept of winning prize money by narrowing the selection of briefcases they get to open. The show is entirely based on luck and intuition. The beautiful models standing with the briefcases for hours at the same spot in the US version seem overly redundant at times.
The European version of the show, on the other hand, takes a completely different approach, requiring contestants to open their own boxes. Contestants opening their boxes with great anticipation created more suspense than smiling models. And it's safer, as the models in the US version have fainted a few times after standing for long hours.
Strict Schedule
Did you know that many game shows shoot multiple episodes in a single day? To make that happen, cast members would have to go through multiple wardrobe changes throughout the day just to make it appear as if the show was taped on different days.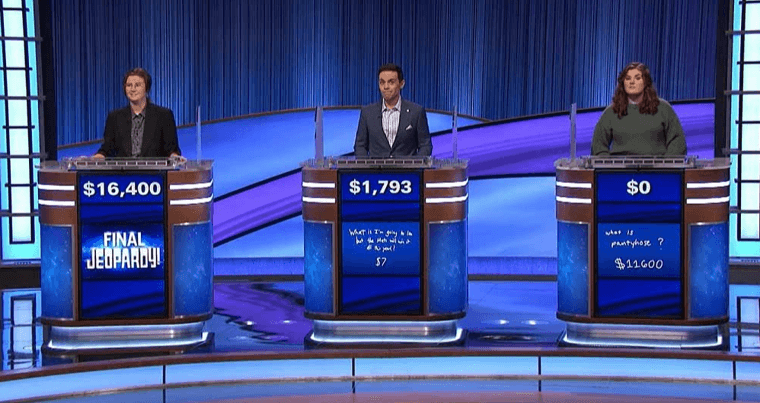 For example, Jeopardy! may film five episodes per day, with two working days per week. That would indicate that the show would be shot months in advance. Keeping that a secret for so long sounds like a huge deal especially if you have won large sums.
Legends of The Edited Audiences
Legends of the Hidden Temple, which first aired in the 1960s, pioneered a fun way of incorporating various mythologies into a children's show. The kids had to race, climb ropes and swim the moat according to directions given by an ancient statue head named Olmec.
The teams of contestants had to compete by performing various tasks to retrieve one of the historical artifacts from the hidden temple. However, did you know that the audience cheering in the back didn't actually exist and that their sounds were edited into the show?
Paid To Clap
The city of Los Angeles is where your dreams come true as you can get paid for just about any odd job. While many tourists stand in line just so they could get into their favorite shows, many just get paid to get to do the same.
Although the life of a paid audience member may sound fun to you, one whistleblower reveals that it's not always rainbows and sunshine for them. She was paid the minimum wage to clap for hours leading her to be numb and aching in pain at one time.
Double Dare's Product Advertisement
Premiered in 1986, Double Dare was a completely messy show with slimes and pies flying everywhere all the time. However, did you know that these random foods were a part of product placement? Snack company Nabisco approached Nickelodeon's president to incentivize the show.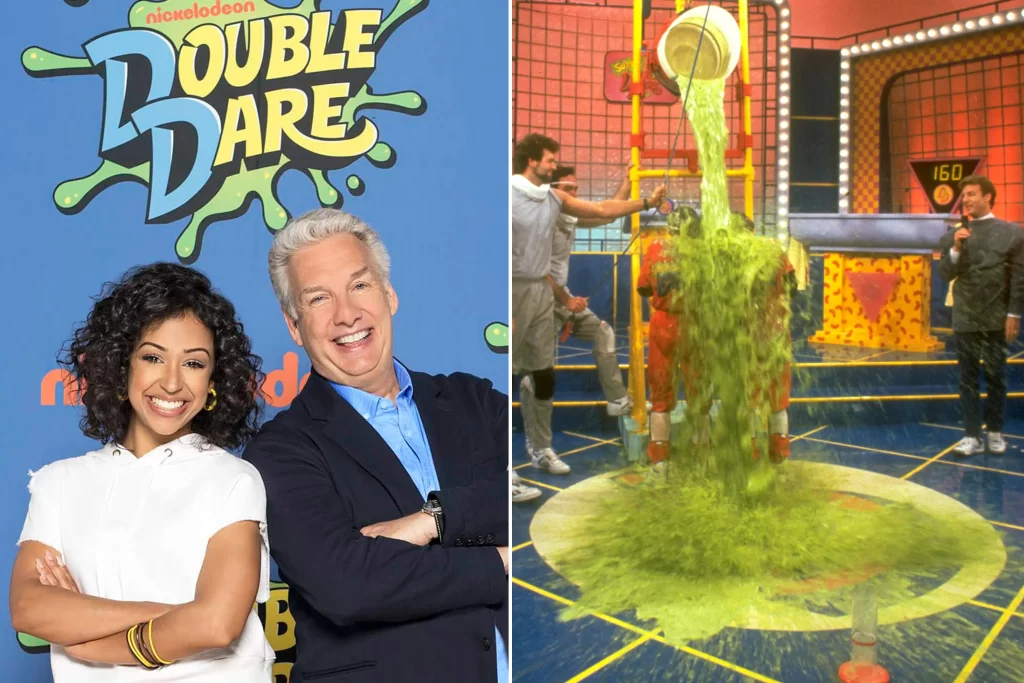 The company wanted to design a show that would allow them to advertise their products to younger demographic. Although Nabisco backed out their sponsorship even before the show was aired, Double Dare's insane concept wouldn't have been conceived without them.
The Opportunity Of A Lifetime
We know stand-up comedian Dana Carvey as our favorite member of Saturday Night Live. Did you know he almost passed on SNL for another kid's show? He was offered the gig to be a host in Nickelodeon's game show Double Dare, and we're glad that he didn't take it.
Don't get us wrong! We love Double Dare but working on SNL is the opportunity of a lifetime, especially during its prime in the '90s. Moreover, we would have been robbed of the opportunity of Carvey playing iconic characters such as Church Lady and Garth Algar in the show.
The Adventures of Carmen Sandiego
Where In The World Is Carmen Sandiego? was an iconic '90s kids show. The show featured kids answering geography-related trivia questions. One bizzare thing about the show was its production timing. The show used to film multiple episodes in a day, but that wasn't the problem.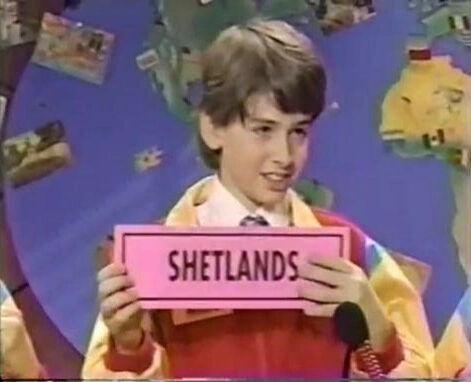 The show was made to split into two halves that were filmed six months apart. That's not normally a problem, but the show involved kids. They grew slightly in between that time, some lost their interest in their show and others didn't even want to return.
The Stone Cold Food
Aside from game shows, cooking shows took off, giving us some of our favorites, such as Masterchef, Hell's Kitchen, and Kitchen Nightmares. People really seemed to enjoy chef Gordon Ramsay taking a jab at the contestants with his enraged and unapologetic demeanor.
But did you know that the judges almost always get served cold food? Even if the contestants are tasked to cook the food in an hour, it takes a long time to finish filming. Thus, the producers place microwaved tampons behind plates to give an appearance of warm food.
Could You Be Possibly Smarter Than A Fifth Grader?
Do you remember the show Are You Smarter Than A Fifth Grader? The show pitted adults and, obviously, fifth-graders against each other in a quest to answer simple quiz questions. It was playable for the viewers, too, who could watch and see if they're indeed smarter than a fifth grader.
Although the show was meant to be mostly educational, it was equally hilarious to see adults making fools of themselves in front of the ten-year-olds. Also, if you follow the show closely, you'll see that, unlike other shows, the hosts and the kids wear the same outfits across multiple episodes.
The Mystery of The Banker Debunked
Deal Or No Deal features the mysterious banker that seems to be in control of the show for the most part. He's been offering deals that contestants have a hard time rejecting, yet we don't know who the silhouetted figure is behind the scenes.
We have got you covered as we're going to reveal who's behind that shadow. Turns out that the banker was played by actor Peter Abbay for the show's first run between 2005 and 2010. The show came back for a short run between 2018 and 2019 and this time it was played by actress Carrie Lauren.
The Vanna White Legacy
Vanna White has famously been turning letters in Wheel of Fortune since 1982. Did you know that Wheel of Fortune wasn't her first appearance on a game show? That's right, on June 20th, 1980, 23-year-old White appeared as a contestant on The Price is Right.
Thanks to modern technology, the letters now turn themselves while White simply graces the stage. She has carved out an interesting career for herself in the industry, and her legacy will live on. Fun fact: White never repeated an outfit all these years.
Date With a Serial Killer?
Going on a date with a serial killer is the furthest thing in anyone's mind. In 1978, serial killer Rodney Alcala appeared in The Dating Game. Host Jim Lange introduced him as a successful photographer, but who knew what persona lurked behind the curtains.
Alcala actually won a date with Cheryl Bradshaw. Bradshaw, however, refused to go out with him, as she thought he was creepy. And we're all glad she did. Who knows if she was going to be his next victim? Alcala was later arrested and charged with nine murders in 1979.
The Deadly Show
The Late Late Breakfast Show, hosted by Noel Edmunds on the BBC, included a segment called "Give It a Whirl." They allowed people to do crazy stunts like helicoptering someone out of an exploding chimney, jumping 230 feet in a car, and being fired from a cannon.
Many performers were injured due to these stunts, and one incident cost someone their life. Michael Lush, a construction worker, performed an insane stunt that involved bungee jumping from an exploding box suspended from a 120-foot-high crane. Lush eventually died as a result of technical difficulties. Edmonds was so shaken by the incident that he took a two-year break.
The Celebrity Culture And Game Show Symbiosis
Game shows and reality shows are not just for the general public. On occasion, celebrities grace the stages of these shows too. Did you know Arnold Schwarzenegger appeared on The Dating Game in 1973? In fact, there were other celebrities such as Sally Field, Tom Selleck, and Farrah Fawcett who appeared on the show.
The two most iconic appearances were made by Simon Cowell and Breaking Bad's Aaron Paul. Cowell was on Sale of the Century back in 1987, and thanks to his appearance, we have found a gem who would later go on to host multiple talent shows. Paul, on the other hand, appeared on The Price is Right in 2000.
Discrimination At Its Worst
Talent show X-factor has been around since 2004 with over 15 seasons. A Reddit user, whose friend worked as a security guard in the British version of the show, shared some secrets. The audience members were apparently assigned seats based on their physical attributes.
The more attractive audiences were seated in the front, while the least attractive were seated in the back. Although we agree that beauty is in the eye of the beholder, discriminating against people based on their physical appearance shouldn't be a thing at all.
Shoplifting in Supermarket Sweep
Through shoplifting, Supermarket Sweep introduced an absurd but hilarious approach to the game show genre in the 1960s. Indeed, the show was the only place where it was legal to shoplift. Initially, contestants had to answer quick trivia questions, and the lucky winner would get to sweep through the supermarket, filling their carts with whatever they wanted.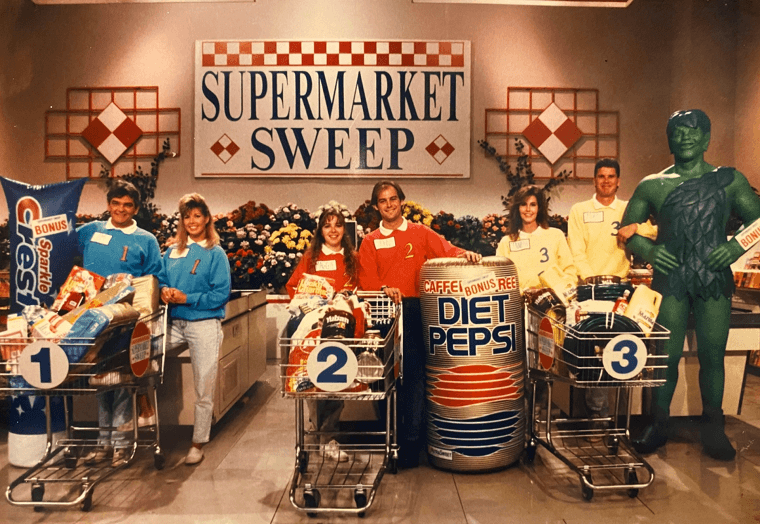 The supermarket was originally real and based in New York. On the other hand, the later seasons were shot on a set. Because the food in the set was not kept in refrigerators, it got spoiled at times. Getting rotten food defeats the purpose of winning the show anyway.
The Truth Behind House Hunters
House Hunters is a real estate-themed reality show about couples and families looking for new homes with the assistance of real estate agents. One whistleblower revealed that the show is entirely fabricated. She and her husband had to pretend to live in a hotel, and most of their arguments were completely staged.
The most shocking aspect is that the houses are not even listed for sale, and most of the time, the families already own them. In this case, the show can be considered a total ripoff because it isn't even a reality show, despite its best efforts to make it look so.
Nickelodeon's Signature Slime
If you've ever watched any Nickelodeon content, you'll know that their signature green slime is an important part of their branding. Since the 1980s, the iconic slime has been a fan favorite, and many people have even preferred to lose game shows in order to be slimed at the end.
There is even an entire dedicated event called the Slime Fest that takes place every year. They even released cereal and ketchup versions of the green slime, and we're very curious to find out how it tastes. In case you didn't know, the original jolly green slime has its own flavoring and tastes like a pineapple.
Don't Marry At First Sight
As absurd as it may sound, imagine meeting your partner for the first time and marrying them on the same day. Married At First Sight follows a group of singles who are matched by experts and marry their partners on the very first day they meet them.
A former contestant's coworker revealed that their colleague had a terrible time on the show. The contestant was so traumatized by the experience that they sought therapy afterward. Five years after her debut, she still receives an appearance fee, also known as hush money.
The Million Dollar Phone Call
Who Wants To Be A Millionaire features a lot of lifelines which tend to differ from one version of the show to another. One of the popular lifelines is the Phone A Friend option. Did you know that the friends on the other side of the phone call go through an array of interviews before appearing in the show?
In fact, a couple of crew members are dispatched to the friends' houses to ensure that they do not cheat. It would take less than 60 seconds to Google an answer and make their contestant friend a millionaire, which the production clearly does not want.
Is It Worth The Pain?
A fan-favorite show known as Wipeout features extreme obstacle courses contestants need to go through in order to win the grand prize. The show is painfully hilarious and leaves no chance to make a scene of the competitors. The tasks are excruciatingly painful, with contestants being slammed, smacked, and walloped by every other obstacle course.
In one unfortunate incident in 2020, a contestant fell from the obstacle course and fell unconscious. He died the next day, and an autopsy revealed that he died of a heart attack. He also had coronary artery disease but was unaware of it.
The Jeopardy! No-Nos
If you're a contestant in Jeopardy!, you must avoid betting certain amounts of cash at all costs. Apparently, Jeopardy has made a rule to ban certain cash amounts such as $666. The number denotes the devil's number and thus must be avoided under any circumstances.
In fact, there are, in total, five banned numbers: $1488, $14, and $88. These numbers correlate to a secret code used by the white supremacists. In addition, the numbers 74 and 2,520,700 must be avoided, as well, as these numbers go down in the history of Jeopardy! as Ken Jennings' most winning streak amount.
The So-Called Lifetime Supplies
Having a lifetime supply of just about anything might sound like a dream to many. It could be a jar of candy corn and you'd still feel like you've won the lottery. Game shows have frequently given away prizes and lifetime supply packages that were either unappealing or completely ridiculous.
In one instance, someone had won a lifetime supply of Butterfinger candy bars which he received in just two cases. In another case, a woman in a wheelchair was given a treadmill on The Price is Right, which almost defeats the purpose of her appearance on the show in the first place.
It Isn't That Easy To Ride In The Cash Cab
The premise of Cash Cab was intriguing, to say the least. Random people are loaded into the cab and must answer trivia questions in order to win prize money. Three incorrect answers could result in being thrown out of the cab.
Although it appeared that the contestants entered the cab at random, this was not the case. To be on the show, the production team had to contact the contestants ahead of time. In addition, the money given out in the show is prop money, and the actual check is received only after the show has aired.
MasterChef Behind The Scenes
Culinary shows, like game shows and reality shows, experienced a surge in popularity, with MasterChef being the first to do so. However, if you look behind the curtain, the show may sound completely different to you. Apparently, the timers we see are all fake.
The countdowns are either pre-recorded or recorded after the filming of the episode. In fact, the contestants are given a week to practice their dishes ahead of time. As a result, no ingredients used during the challenges are surprising. Even food presentation training is provided to the contestants.
Family Feud's Favorite Host
Family Feud has been pitting families against each other since it first aired in 1976. The show has been on the air for a long time, and it has had a slew of hosts. The popular show is currently hosted by Steve Harvey.
But there was a time when Harvey almost backed out due to commitments to another Atlanta morning show. To accommodate him, the production relocated from Sunset Bronson Studios in Los Angeles to Universal Studios in Florida. Harvey eventually persuaded the production to relocate from Florida to his hometown of Atlanta.
The Wheel of Fortune Backstage Ordering
Before the contestants get to grace the stage in Wheel of Fortune, they are made to stand in order. The order of their positions is determined by drawing numbers in backstage. One ex-contestant, who was placed in the middle, revealed that ordering in the show really matters.
Apparently, the middle position is the worst one a contestant could acquire. When you stand in the middle, you're constantly made to spin the wheel and keep guessing. Although that might sound preferable, if you miss a letter, the other person can easily jump in to answer because they have had more time to think about the clue.
The Big Brother's Secret Alleyway
Big Brother follows a group of strangers that are made to live inside a house, cut off from the outside world to coexist together. Each and every move of these contestants are recorded through dozens of cameras and microphones embedded in the house.
However, did you know that the house has a secret alleyway that houses all the cameras that the crew members can wander through? Thus they could always keep a close watch on the contestants. So, they aren't ever really isolated.
The Millionaire Who Couldn't Afford Lunch
If you love Jeopardy! and if you haven't heard of Ken Jennings yet, you might be living under a rock. Ken Jennings' name is written in the history of Jeopardy! forever due to his phenomenal winning streak, winning 74 games in a row and $2,520,700 in total.
Despite landing a $2 million check, how was he not able to afford lunch? Well, his meal was paid for by a voucher. An ex-contestant noticed him returning an item, as he had exceeded his voucher's limit and had no cash on him at the time. Fortunately, the whistleblower gladly shared his voucher with him.
Chosen By Name
Just when we thought X-factor ranking audiences through appearance wasn't absurd enough, The Price Is Right also joined the bandwagon. According to one former contestant, during the interview process, they ask you how to pronounce your first and last name.
She explained that the chances of you being chosen narrows down to zero percent if one of your names is hard to pronounce. In addition, if there are more individuals with exact same names, none would land the chance. Here's to your queue to quit dreaming of landing in the show if your name is remotely hard to pronounce.
That's Unfair!
Most people regard being picked up by The Price Is Right as a huge deal. But did you know that the contestants picked from the audience aren't chosen at random? They actually go through a bid session where they are chosen by the producers before taking the stage.
According to one whistleblower, they had the worst time during one of the bids. They claimed that their opponent was given the opportunity to rebid after the audience booed her initial bid, causing them to lose. The show even edited out the part where she made her first bid and only aired the second.
The Survivor
Survivor follows individuals who are stranded on a remote island as they attempt to survive the difficult tasks and obstacles they face, all in the name of the grand prize. Reality television shows were typically produced on a low budget and with little regard for detail.
Survivor was one of the first shows to follow a complete storyline to keep the journey interesting. Because Survivor has a predetermined storyline and numerous strategies, cast members are usually compensated based on the amount of time they spend on the show.
Ellen's Game of Games
Unlike The Ellen DeGeneres Show's recent scandal on the toxic work environment, her new show Ellen's Game of Games seems to be doing better. One whistleblower revealed that she and her husband were flown out for the show and had nothing but praise for the experience.
She claimed that they were flown out during the peak of Covid-19 and quarantined in a hotel that also housed other contestants. The entire season was shot in two weeks, and all of the contestants were frequently tested for Covid-19. The show was so generous that the contestants received money for food as well.
Family Feud's Insane Fortune
When Family Feud first aired in 1976, each family had a set prize to win. The prize money was $25,000 at the time. This sum was considered enormous at the time, given that the average annual income was only $16,000.
Back then, the show essentially handed out fortunes. Perhaps that's why the British version of the show is called Family Fortunes. It's safe to say that the show literally gave families fortunes that they could live comfortably on for years.
Getting Out of Debt
Catch 21, hosted by Alfonso Ribeiro, combines trivia questions to create card totals as close to 21 as possible. One ex-contestant shared that they were called in way before taping to rehearse some games beforehand. They were also visited by a lawyer that explained the terms of their contract.
Did you know that winning prizes requires you to pay taxes on them? Furthermore, the show will not pay you if an episode in which you won prizes is not aired. The ex-contestant, on the other hand, won $6000, which helped them pay off their credit card debt.